Pakistan still has room to improve to become a democratic Islamic nation was the conclusion of the important Forum for International Relations Development (FIRD) seminar titled: "Pakistan – A Misunderstood State" at the House of Lords in which The Lord Ahmed, Justice Retd. Mufti TaqiUsmani (International Expert), Qari Muhammad Hanif Jalandhry (Member Islamic Ideology Council, Pakistan), The Lord Hussain, Pakistani Senator Mian Muhammad Ateeq Shaikh (Chair, SSC on National Health Services Regulations and Coordination) and Toaha Qureshi MBE (Chairman FIRD) participated. The seminar was supported by School of Economics and Law.
Lord Nazir welcomed the guests and thanked FIRD for organizing this timely seminar. Toaha Qureshi MBE said that Pakistan had been made the scapegoat for far too long by media, politicians and the West, citing recent threats and accusations made by the US and its President Donald Trump. He said that Pakistan as a nation had been making sacrifices regularly through its people and image. He criticized groups for saying that Pakistan has become a target for just minorities when the entire nation had been targeted at some point; stating that military, naval and Air headquarters, universities, schools, mosques, churches, Madrassas, shrines, markets and the like had all been attacked. He said that Pakistan still had the opportunity to fulfil its role to intertwine faith and state as the UK has to bring about peace in the region. Mr Qureshi added that little known or appreciated by too many, both inside and outside, Pakistan possess an incredible cultural and physical beauty.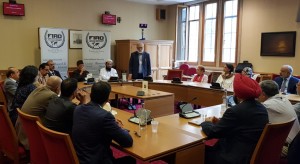 Mr. Qureshi concluded by saying that rather than solely relying on solely state to state diplomacy, the government should make every effort to create a better understanding of Pakistan's position on certain issues and its image internationally, countering the negative propaganda against it by other countries by projecting the soft image of the country. He further added that economically and politically stable Pakistan provides a guarantee of peace in the region and this is what the world should be working towards by supportingPakistan through trade not aid. Having said that Pakistan needed to get its act together by bringing politicians, judiciary, bureaucracy and army on one page with regards to the protection of ideological and physical boundaries of Pakistan.
Mufti Taqi Usmani in his speech commented on the title of seminar by raising a basic question: "Why has Pakistan been misunderstood?" He discussed in detail the idea behind creation of Pakistan and the phrase 'Islamic State' that has been taken by the ISS that consequently brought bad name to Pakistan as well. According to Mufti Usmani, the idea was to build Pakistan a real democratic Islamic nation based on Islamic teachings, which unfortunately has not been achieved yet. Mufti Usmani acknowledged that Pakistan is not a failed state as it has improved itself over time, however there is still ample room for improvement by making it a full democratic Islamic nation. In order to improve, he proposed that there should be an effort in Pakistan to build a democratic and moderate Islamic nation and it will consequently resolve the problem of extremism.
While elaborating upon the current political situation in Pakistan, Senator Mian Muhammad Ateeq Shaikh criticized the role of politicians and held politicians and parliamentarians responsible for the prevailing chaotic situation in Pakistan. He stressed upon the rule of law and a law equal to all should be implemented in Pakistan. He added that politicians were making it too easy for opponents of Pakistan to ridicule them and promote a negative image of an amazing country. Senator praised FIRD for arranging the seminar as it highlighted the fact that Pakistan did not have strong representation in defending and promoting itself.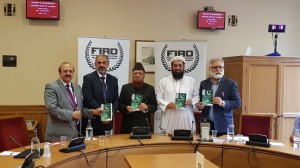 Lord Hussain said that the Pakistan he left and the Pakistan he sees today are not the same. He held Western policies during the 1980s Soviet war in Afghanistan responsible for the present-day problems and negative image of Pakistan. He categorically stated that the West has done the most wrong and damage to Pakistan. Lord Hussain also recognized the lack of human resource that can defend Pakistan or project positive image of Pakistan therefore there is a need to project legitimate concerns of Pakistan in a proactive manner at every level.
For this, Mr Qureshi urged Pakistani parliamentarians, politicians and especially High Commissions of Pakistan/Pakistani embassies around the world to work to defend Pakistan's image and defend legitimate Pakistani concerns such as human rights violation in Kashmir.
Lord Nazir expressed his criticism about the existing mindset Pakistan that there is always a conspiracy working against Pakistan and the habit of blaming the West. He said that since no political party in Pakistan has mentioned Kashmir issue in their manifesto at this election, Pakistanis could not blame the West for this as Pakistan itself had not put this issue at the forefront.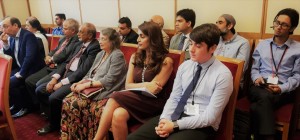 Qari Hanif Jalandhry, Member Islamic Ideology Council and Secretary General of WMAP, explained the two types of terrorismPakistan is facing. One is related to terrorist acts such as suicide bombing that has a historical background of when Soviets invaded Afghanistan and thousands of Mujahideen were trained to fight Soviets, however were left unattended once Soviets left Afghanistan and the US interest was served. This gradually gave rise to today's chaos Pakistan is facing. The other form of terrorist activities is carried out on the basis of ethnic lines that has links to Pakistan's neighbouring country (India) that have been translated many times.
Considering the need to change the mindset in Pakistan, Qari Jalandhry highlighted the efforts of religious scholars to help improve positive image of Pakistan and counter the misunderstanding by internal and external parties. His organization has urged Pakistanigovernment that the citizens of Pakistan should be distinguished as Muslims and non-Muslims instead of calling non-Muslims 'minorities'. He also talked about the syllabus that is being taught in their madrassas, which involves both religious education as well as secular education up to master's degree level. Later on during discussion, Mrjalandhry stressed, in response to a question regarding syllabus, that their madrassas put a lot of weight on ethics.
Moreover, Qari Jalandhry made the audience aware of the book Paigham e Pakistan (Message of Pakistan), written by Mufti Taqi Usmani, and his organisation's and peers' efforts addressing the issues related to terrorism and jihad, which was adopted by government of Pakistan as an official document. According to this document, the scholars clarified and made their position clear:
Terrorism and suicide bombing has nothing to do with Islam and it is forbidden.
It is illegal to take arms to implement Islam in Pakistan – Islam in Pakistan can only be implemented through Parliament.
Only the state of Pakistan can announce jihad in case of an enemy's attack, no private jihad is accepted or allowed.
Discussing the fact that there exists a gap between the West and Pakistan, he opined the only way for this to be resolved is if the West drops its double-standards policy. During a discussion with the US Secretary of State, he said that the West call whateverPakistan do adding the prefix of "Islamic", but whenever a non-Muslim country do something such as create a bomb, they do not term it Christian bomb or Jewish bomb and until this double standard is not stopped, there will always be a problem. He also urged that there is a need to understand terrorism as a human issue, an international issue instead of associating it with religion or state as numerous religious scholars have condemned terrorism and it is unfair to castigate one group of people.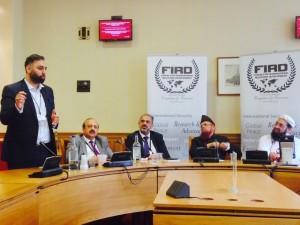 During the Q&A, a question was raised that if we want to make Pakistan a democratic and moderate Islamic state than which version of Islam should be followed. Mufti Taqi Usmani said that when Pakistan was being created, there was a set of 22 principles that Muslims from all sects accepted as the basis of the Islamic republic but was sad to see that due to personal interests from different parties, the different sects began fighting over issues that were not fundamental to the Islamic republic.
Responding to a question related to employment opportunities for graduates from madrassas (Religious Schools), Mufti TaqiUsmani and Qari Hanif Jalandhry informed the audience that the educational courses provided in their madrassas are equivalent to Masters in Arabic being taught in other universities and so the employment opportunities for madrassa graduates madrassas are the same as someone graduating elsewhere as they have seen those with master degrees in business and other subject also unemployed. They said that the percentage is quite low for someone who has graduated through a madrassa to have no employment. When asked whether there was a need for regulating further the madrassas, Qari Jalandhry said that it was the Islamic scholars that urged the government to regulate madrassas and after much pressure they did so. He said that in Pakistan there is a law that whenever a madrassa is established, it has to be registered with the government. Madrassas part of the WMAP board are registered with the government. He further added that there are also secular private schools which are not registered with the government but there is little light shone on this. He further clarified that madrassas affiliated with any of the five Wafaqs (Religious Educational Boards) inPakistan have one single syllabus that has been accepted by the government and various sects of Islamic, making it easier to regulate their activities.
In response to comments from leaders of British-Pakistani organisations, Lord Ahmed said that in parliament, Pakistani origin parliamentarians were doing their part such as asking the House of Lords to add the book Paigham e Pakistan, adopted by the government of Pakistan, to the House of Lords library. He questioned what the organisations representing Pakistanis in the UK were doing to counter the misunderstood status of Pakistan as opposed to jumping on the bandwagon spiriting out of those groups who wish to tarnish the reputation of Pakistan. Responding to questions about the upcoming elections, Toaha Qureshi MBE said that the result must be accepted for a smooth transition of government and unsuccessful parties should play their role as an effective opposition holding the government to account. He sent best wishes to PTI, PMLN, PPP and all other parties who are involved in the elections, urging them to put the people ahead of selfish and international agendas.
Umar Mahmood said that it was important for young Pakistanis to be involved in promoting the positive image of Pakistan including British Pakistani achievements. He said that the new generation should be engaged to promote things coming out of Pakistan, such as technology, fashion, education and more.The government should use the positive measures adopted to improve economic, social and political conditions such as the visit of renowned footballer Ronaldinho or the visit of wrestlers. He offered the vote of thanks on behalf of FIRD. The seminar was attended by parliamentarians, academics, activists, bureaucrats, students, community leaders, religious scholars and media.